The Music Academy of WNC – Surviving, Thriving, and Expanding During the COVID-19 Pandemic
The start of 2020 looked like another successful year for the Music Academy of WNC in Hendersonville, North Carolina. Private lesson registration was up 20% in January from the previous year and the ensemble and music class programs were showing positive growth from past semesters. As the first quarter seemed to indicate a banner year for the Music Academy, the COVID-19 pandemic hit North Carolina and a flurry of Executive Orders from North Carolina Governor Roy Cooper declared certain businesses non-essential. This closed restaurants, bars, and gyms while local "Stay at Home" orders were implemented and all North Carolina Public Schools were shut down. The Music Academy was one of these non-essential businesses that faced closure to the general public.
According to Michael Ridenour, Music Academy Director, "we had a limited amount of time to react to the Governor's Executive Orders. The only option we had to keep our business operating was to migrate our private lesson students online." The Music Academy had only one online format at the time that was used for a handful of students living in various parts of the country. "We never had the need to place such a large segment of our student population online" says Ridenour. This was a big undertaking with over 220 private lesson students at the time the pandemic hit and less than a week to plan and implement. Ridenour states "I knew if we did not make this transition smooth for our students and their parents then we would have a mass exodus on our hands. Failure was not an option."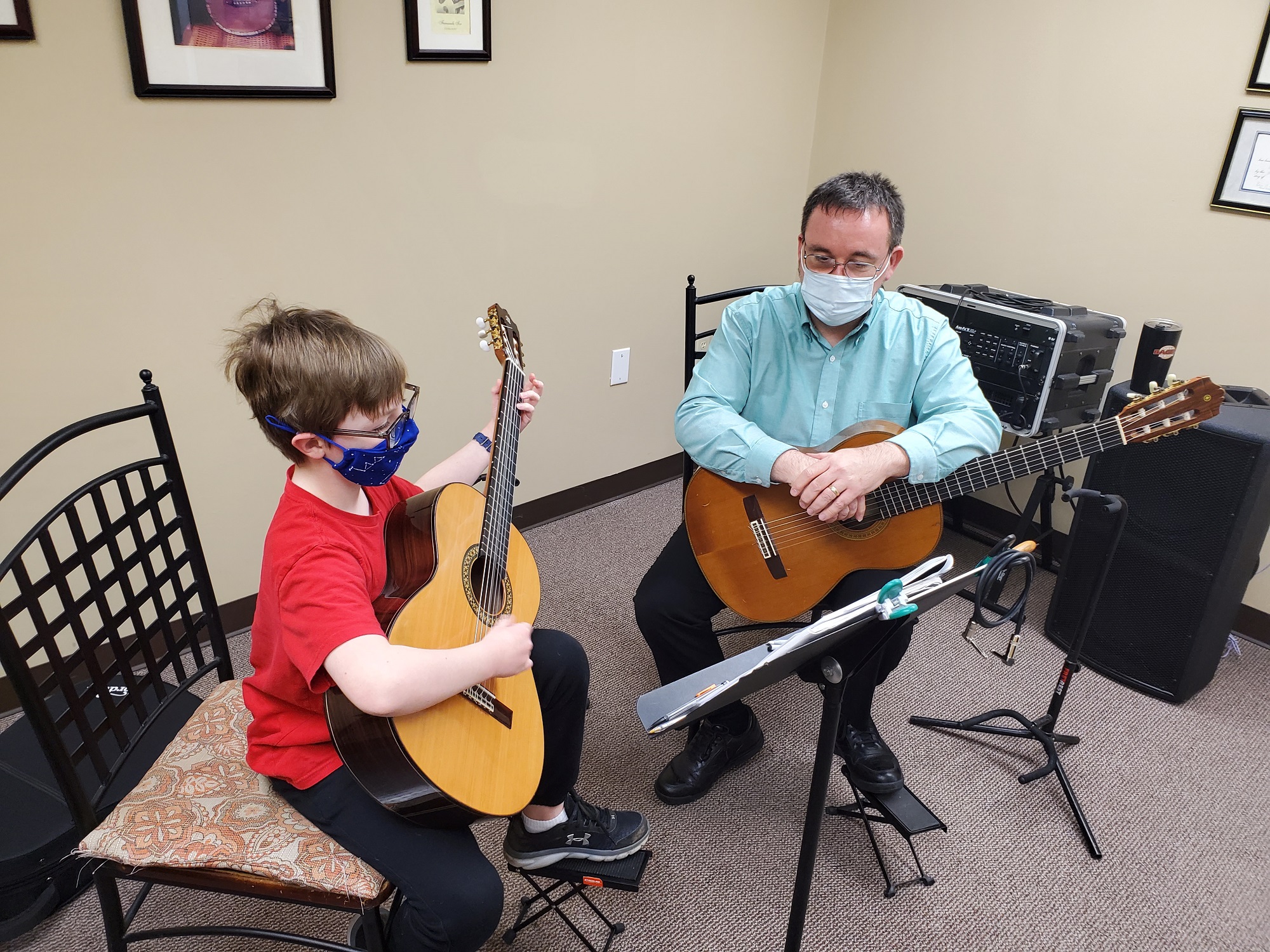 Michael Ridenour (Director/Guitar Faculty Member) and Knowlton Lee (Guitar Student)
The Music Academy executed a multi-format solution. Ridenour states "my goal was to remove all roadblocks for students, parents, and faculty." The Music Academy opted for four familiar and user friendly online formats. "We started out with Google Meets and Hangouts because the Henderson County School system elected to use those systems. We also adopted Google Duo, FaceTime, and Zoom because these systems were the most popular online forums our community utilized. It eliminated all learning curves." Ridenour says.
The Music Academy faculty was instrumental in testing and implementing these formats with their students. Ridenour says "I told our faculty we only had one shot to make this transition seamless. Within the week our renowned faculty began studying, testing, and quickly transitioning to online formats. I am so thankful we were able to offer multiple formats to our students. The Music Academy lost fewer students during the Spring and Summer months of 2020 than normal when competing with spring sports and summer vacations." Ridenour contributes this success to a great faculty, offering multiple online formats, familiarity of use, lots of testing, and solving technical issues with students right when they happen. Even though the ensemble and music class programs were put on hold, the core of the business continued with implementing multiple online lesson formats.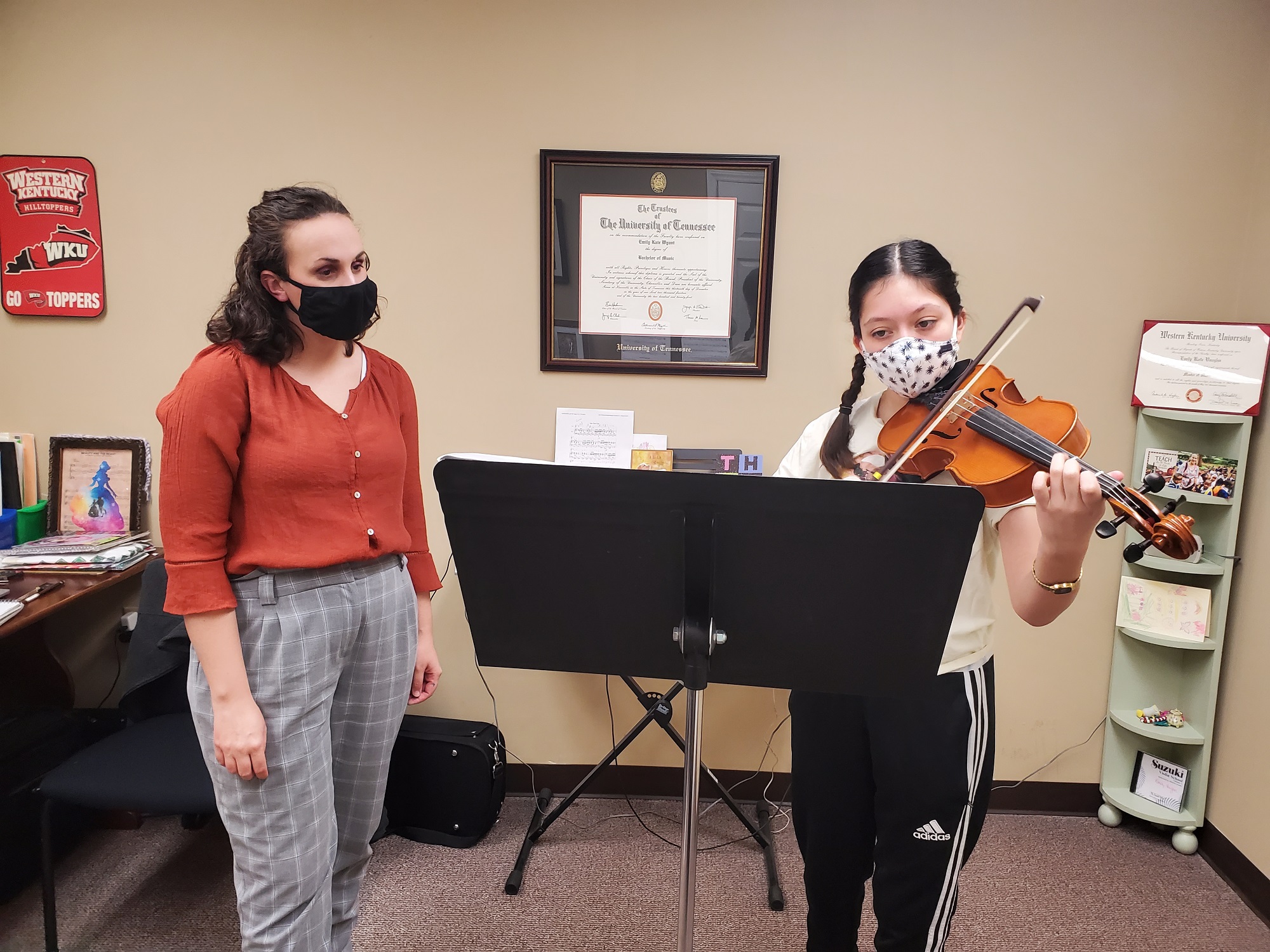 Emily Vaughn (Violin/Viola Faculty Member) and Isabella Ortega (Violin Student)
Once June 1, 2020 came and restrictions on non-essential businesses were partially lifted, the Music Academy opened back up for in-person lessons but still offered the online formats for those who were more comfortable in using them. Ridenour states "we adopted all of the State of North Carolina COVID-19 guidelines such as facemasks, social distancing, hand washing, sanitizing and implemented them into our day-to-day procedures. This created a safe environment for our faculty, students, and their parents. It also allowed us to rethink our policies and procedures to implement online lessons for inclement weather and other times we might be closed for in-person lessons. It also allowed us to move into other markets outside of Henderson County. We now offer online lessons to students in various parts of North Carolina, Florida, California, and even Germany. It has been a great addition to our offerings that we may not have implemented without COVID-19."
The pandemic also forced the Music Academy to rethink their overall business plan and service offerings. Ridenour says, "Even though private music lessons are the core of our business, I wanted to create value-added opportunities for our current students as well as the Henderson County community." Four brand new services came to fruition during the pandemic that are now being released in 2021.
First is a new 501-c3 non-profit for music scholarships called Music in the Mountains Scholarship Fund. This non-profit was created to fund music-based scholarships for students taking private lessons, ensembles, and music classes in addition to collegiate music programs. Ridenour states "we are now raising funds for Music in the Mountains so we can start awarding scholarships for the second half of 2021." Information on this new non-profit can be found on the Music in the Mountains Scholarship Fund website at https://mmsfnc.org. Donors can also contact Michael Ridenour at 828-693-3726 for more information.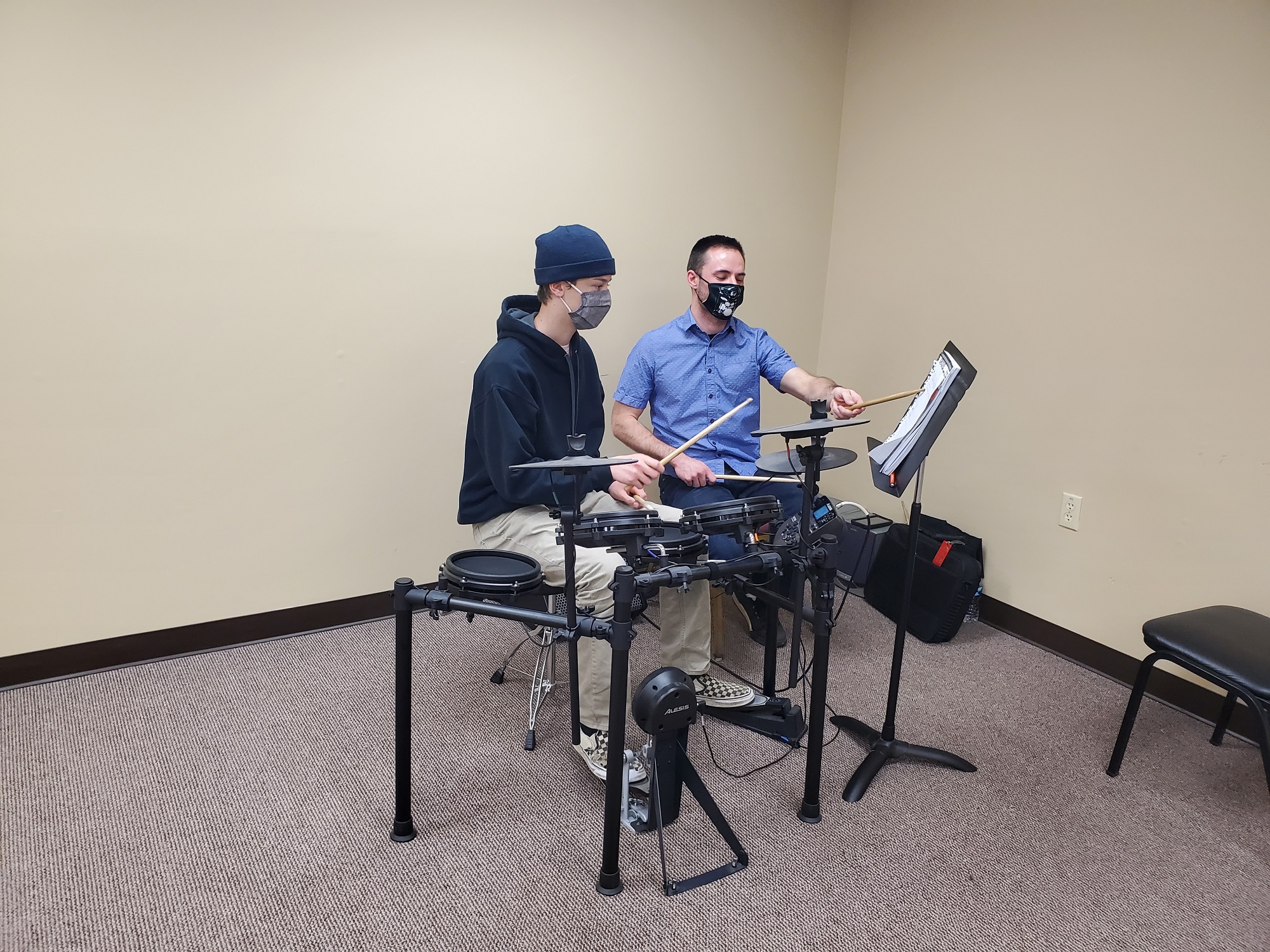 Josh Dunn (Drum/Precussion Faculty Member) and Curran Hartzler (Drum Set Student)
Second is a music instrument rental program for band and orchestra. The Music Academy is now an affiliate of the National Music Educational Company (NEMC). Ridenour states "NEMC has been around since the 1950's and has a great track record of providing quality instruments to band and orchestra students. We saw a need to offer name-brand rental instruments to our students as well as band and orchestra students in the public and private school systems so we felt the time was right to create this new service for the upcoming school year. We now have the sales and repair staff in place to successfully offer a great service to our students as well as band and orchestra programs in the Henderson and surrounding county school systems." Information on this new instrument rental program and be found on the Music Academy website at https://wncmusicacademy.com/rentals.
Third is a new music accessories retail division. Ridenour states "this new retail division is to support our current student population and is a great service and value added for our new music instrument rental customers. Students can purchase music accessories and method books, selected by our faculty and area band and orchestra directors, and pick them up at the Music Academy or have them delivered to their school if they are a music instrument rental customer." For more information, please visit the Music Academy retail store at https://wncmusicacademy.com/store.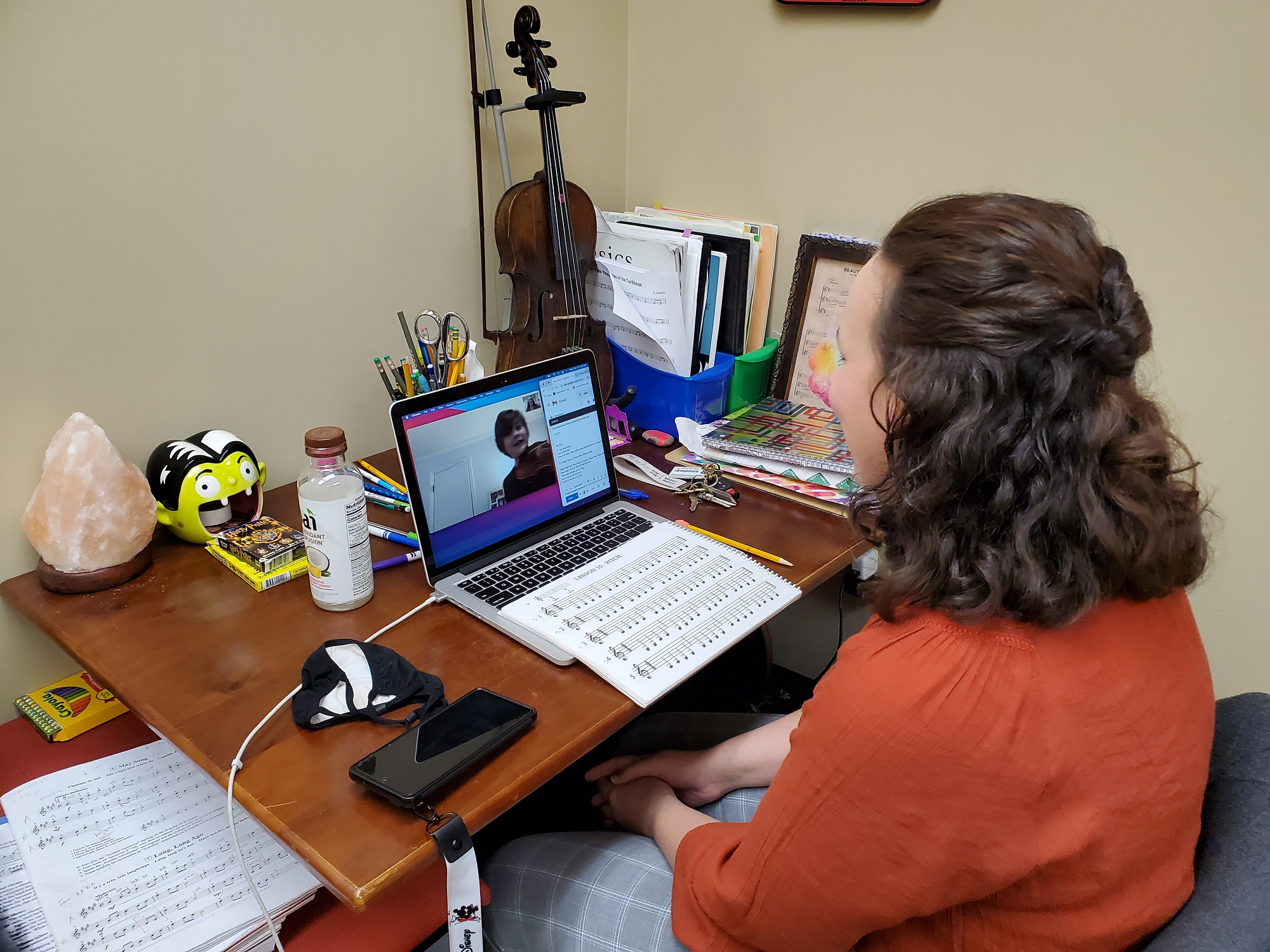 Emily Vaughn (Vilin/Viola Faculty Member) conducing an online lesson with Silas Shope (Violin Student)
Fourth is the new Music Together program which is scheduled to be offered in the summer of 2021. Music Together combines music and movement designed for infants, toddlers, and preschoolers with parental participation. Jamie Leigh Bennett will be teaching this program at the Music Academy. Ridenour states "we also plan to offer Music Together classes onsite at area preschools around Henderson County." For more information, please visit https://wncmusicacademy.com/music-together.
Ridenour says, "To say the past year has been challenging is an understatement. But with the vaccine distribution currently underway, the Music Academy is hopeful to get back to normal operations by the fall of 2021. We are planning to resume our ensemble and music class programs on a full time basis by this fall. January 2021 has been one of the largest private lesson registration periods on record for this time of year. I believe the influx of new registrations is a strong indicator that people are ready to get back to some kind of normalcy and hopefully that can happen soon. We were very fortunate to have a technological alternative to continue our core service or we may have faced an uncertain future. Being a debt-free company, utilizing technological alternatives, having a renowned faculty with a solid student base, and, most importantly, relying on the Grace of God, allowed us to be able to weather the COVID-19 storm and plan for a stronger and brighter future. We are truly blessed." For more information on the Music Academy and its programs, please visit their website at https://wncmusicacademy.com or contact Michael Ridenour at 828-693-3726. The Music Academy is located at 1411 Asheville Highway, Suite B, in Hendersonville, North Carolina.