We appreciate your interest in applying to the Music Academy Scholarship Fund.  We have formatted our applicant information page with frequently asked questions (FAQ) our students inquire about before applying for scholarship funding.  If you do not find the answers to your questions on this page, please feel free to call (828) 693-3726 to discuss.
Applicants can apply for scholarships by clicking on the FACTS logo below.  There is a nonrefundable $30.00 fee to process all applications.  If you have any questions regarding the application process, please refer to our FAQ section below or give us a call at (828) 693-3726.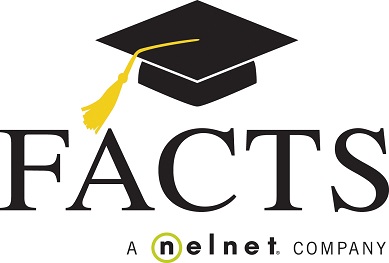 Q:  Who can apply for Music Academy scholarships?  
A:  Any student enrolled in private instrument and vocal lessons, ensembles, or any other ongoing music related class/activity at the Music Academy is eligible to apply for a scholarship.
Q:  What is the scholarship application process? 
A:  The Music Academy has a very simple scholarship application process.  After an initial inteview with the Music Academy Director, the next step for applicants is to fill out a financial assessment form with required financial documentation.   This form may be safely and securely completed online by clicking HERE.  There is a $30.00 processing fee that must accompany this application.   Completed financial assessment applications are sent to a third party financial assessment company to determine financial need.   The Music Academy currently uses FACTS Management Company out of Lincoln, Nebraska.  FACTS will analyze each applicant's financial information to determine financial need and ability to pay.  These "ability to pay" figures are given to the Music Academy Scholarship Committee upon completion.   The Scholarship Committee will review the FACTS recommendations for each applicant and determine final scholarship award amounts.  All decisions made by the Scholarship Committee are final.  The entire process takes approximately two weeks from the date required financial documents are received by FACTS.
Q:  How long are scholarships funded? 
A:  Scholarships for private lessons are normally funded for a four month period beginning in January, May, and September of each calendar year.  Ensemble scholarships are funded for a period of one semester.  However, scholarship fund availability will ultimately determine the length and amount of the scholarship awarded. Applicants must reapply for their scholarship at the end of each four month period and resubmit financial information to FACTS on an annual basis.  If a student decides to leave the Music Academy, for any reason, the unused portion of their scholarship will go back into our general scholarship fund to be awarded to future, qualified applicants.
Q:  How does the Music Academy Scholarship Committee determine scholarship amounts? 
A:  The Music Academy Scholarship Committee takes several factors into consideration when awarding scholarship amounts, however, the primary factor is the applicant's financial need and ability to pay as determined by FACTS.   Since it is the desire of the Scholarship Committee to grant as much money to as many students as possible, secondary factors may include the number of scholarship applications we receive as well as the total amount of donations made available to our general scholarship fund.
Q:  What are the requirements and obligations of scholarship recipients? 
A:  The Music Academy has high expectations for all scholarship recipients.  Significant preparation and mandatory attendance on the scholarship recipient's part is required for all private lessons, ensemble rehearsals, concerts, recitals, and music classes that are funded by our scholarship program.  Students and their families may also be periodically asked to participate in scholarship fund raising events during the year.  Attendance and participation at these events are strongly encouraged.  Each student will also volunteer a minimum of two hours per month in a local non-profit as part of their scholarhip/community service requirment.
Q:  Can an awarded scholarship be revoked? 
A:  Yes.  Scholarships can be revoked upon the recommendation of a Music Academy instructor to the Scholarship Committee if students are not fulfilling their preparation and attendance obligations as well as their community service project.