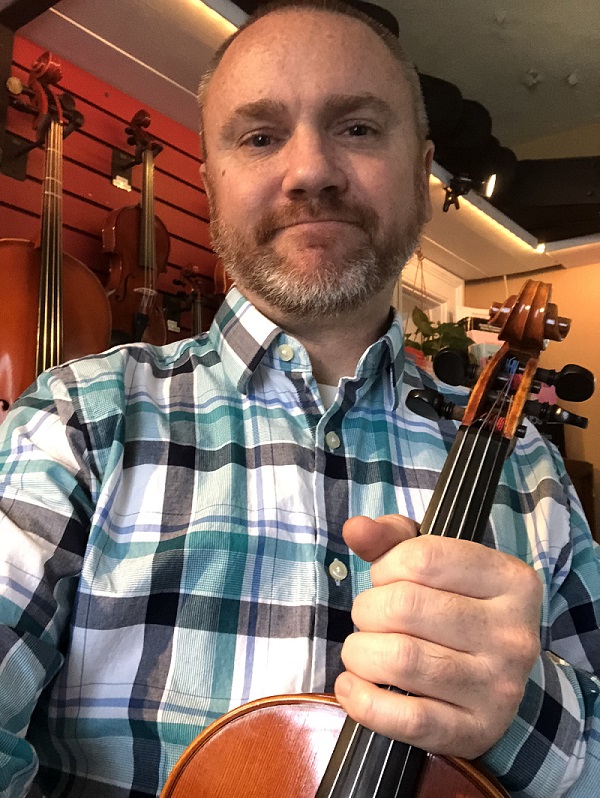 Eben Mann – Violin (Faculty Member Since 2018):  Eben Mann was born and raised in Lake Wales, FL and graduated from Lake Wales High School, where he was a member of the "Highlander" Band, playing clarinet, oboe and the Great Highland Bagpipe; and a member of the string orchestra playing violin and viola.  He took private lessons from Laura Lawson, Helen Edwards, and KC Davidson on violin, and from Sheryl Gorman on oboe.  While in high school, he was a member of the Imperial Symphony Orchestra (Lakeland, FL) playing violin, and was the ISO's Young Artist's Competition Winner on oboe in 1992.  Mr. Mann is a college-level graduate of the North Carolina School of the Arts, where he studied oboe and English horn with the late John Ellis and violin with the late Elaine Richey.  While in college, he worked at The Farm House Inn dinner theater in Blowing Rock, NC for four summers (1993-96), singing and performing on various instruments, while waiting tables every night, from Memorial Day to Labor Day.
Eben has played in dozens of musical productions through the years, and has toured internationally with several Broadway shows, including: Brigadoon, Phantom, Big River, and The Music Man.  The total culmination of his travels has allowed him to visit all 48 contiguous states, plus many destinations in Canada.   In-between touring with shows, Mr. Mann was able to experience living in New York City, which included waiting tables at Josephina (across from Lincoln Center), ushering at the Merkin Concert Hall (meeting Itzhak Perlman), playing in productions in Metuchen, New Jersey, and having the opportunity to observe onstage (in the bandstand), Annie Get Your Gun starring Bernadette Peters.  Before he went on the road, Eben lived in Los Angeles, where he was a member of The Palisades Symphony (Pacific Palisades, CA) under Joel Lish and The American Youth Symphony (Los Angeles, CA) under the direction of Mehli Mehta (acclaimed conductor Zubin Mehta's father).  He also worked as instrument tester/packager at the world-renown supplier of double reed instruments and accessories, RDG Woodwinds.  More recently, Mr. Mann has played with various Southeast regional orchestras such as the Asheville Symphony, Asheville Lyric Opera Orchestra, Winston-Salem Symphony,  Piedmont Opera, Charleston Symphony, South Carolina Philharmonic, Gardner-Webb University Orchestra, and the Symphony of Rutherford County (NC).
Mr. Mann has lived in Rutherford County, NC for the last 16 years.  Eben has taught oboe at Gardner-Webb University as an adjunct professor and was orchestra director at Thomas Jefferson Classical Academy (Mooresboro, NC) for 12 years.  He also helped run Pilgrim Farm in Ellenboro, NC, raising poultry, sheep, and goats. Eben is a music composer/arranger, and has had his work published by Shawnee Press.   He is currently the director of the Wild Roots Fine Arts Academy and the president of the Tree of Life Cultural Foundation, a 501c3 educational nonprofit located in Forest City, NC.