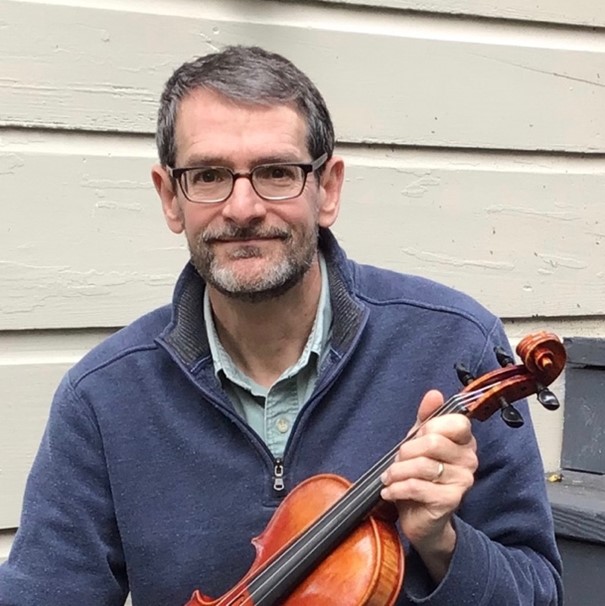 Mike Dunham – Handmade Stringed Instruments & Repair (Faculty Since 2023):  Mike focuses on making new violins, violas, and violincelli, while providing repair and maintenance to the local music community.  He is a graduate of the Violin Making School of America in Salt Lake City, studying with Charles Wolf, Sanghoon Lee, R Alex Wilson, and Aubrey Alexander. Mike studied repair and setup of violin family instruments at the Violin Making School of America, with Jeffery Robinson in Flagstaff, AZ, and with Triangle Strings in Raleigh, NC. He serves on the Board of Directors of Brevard's Mountain School of Strings and the Southern Violin Association.
Prior to attending violin making school, he worked for more than 30 years in advanced materials research and new product development in many fields, most recently developing cardiovascular medical devices.
The intense pleasure of hearing each instrument come to life as it is bowed for the first time is a special treat for him. The smile of a client hearing their treasured instrument come back to life after a repair brings a glow to his heart.
Mike makes and repairs violin-family instruments in his studio in Brevard, NC. He usually has some of his own handmade instruments and less expensive rebuilt instruments available to try out. Students and faculty of the Music Academy of North Carolina are invited to visit the studio. Watch the Academy's calendar for workshops and opportunities to learn about your violin family instruments.
Please contact Mike directly at (928) 853-0429 or visit his website HERE for all your stringed instrument purchases and repairs.