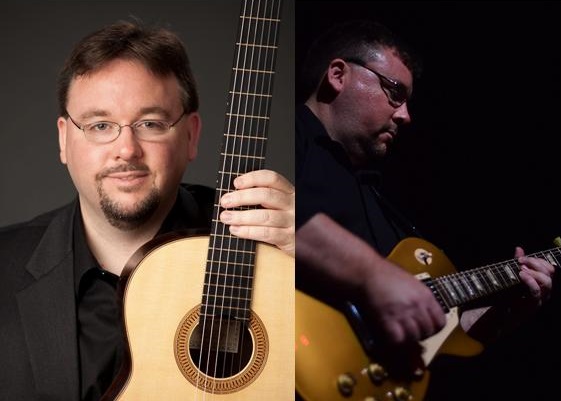 Michael Ridenour – Director, Classical, Electric, and Acoustic Guitar, Ukulele (Faculty Member Since 1997):  Michael Ridenour holds a Master's of Music degree in Guitar Performance from Appalachian State University and a Bachelor of Science degree in Music and Recording Arts from the University of North Carolina at Asheville.  He has been performing and teaching since 1988 and has played in master classes for Elliot Fisk, Christopher Parkening, Anthony Glise, Thomas Patterson, and Elliot Frank.  Michael teaches approximately 50 beginning, intermediate, and advanced guitar students each week and has coached professional studio musicians and multi-platinum award winning songwriters. He has toured with Grammy and Dove Award winning musical artists as front of house (FOH) and monitor sound engineer.  Michael has recorded over 100 albums for full-time, professional musical artists and has #1 charted songs in the Gospel Music industry to his credit.  He has taught applied guitar and various other music courses while serving on the music faculties of Blue Ridge Community College and Appalachian State University.  He has previously served on the music faculty at the University of North Carolina at Asheville teaching music theory and music history.  Michael is an active performer throughout the southeastern United States playing at such venues as the Grove Park Inn, the Biltmore House, and many regional restaurants, clubs, festivals, and concert venues in both the classical and rock music genres.
Michael has served on the Education Committee of the Hendersonville Symphony Youth Orchestra as well as the Promotions Committee and Main Street Music Selection Committee for the City of Hendersonville.  He was a founding member of the Rhythm & Brews Concert Series Committee with the City of Hendersonville and is the past Chairperson of the Hendersonville Symphony Orchestra Young Artist Competition.  He has adjudicated many college and university scholarship auditions as well as the Appalachian State University Guitar Festival which is an international classical guitar festival held annually in Boone, North Carolina.  His students have placed in national and international guitar competitions and have been accepted to collegiate music programs such as Berklee College of Music, Belmont University, and many others.
Michael, and his wife Michelle, have two children; Matthew and Micah.  They are active members of First Baptist Church in Brevard, North Carolina.  Michael has served in a variety of church leadership roles including Sunday School Director, Sunday School Teacher, Deacon, Church Council Moderator, and long-range and finance committees.  He is an ordained deacon and member of the Gideon's International.
Michael has dedicated his life to the full-time service of helping others discover and develop their God-given musical talents.  Whether your goal is recreational, supplemental, or college/conservatory preparation, Michael will develop a customized curriculum to help you reach your goals quicker and unlock the greater potential found in all of us.