Teacher Creates His Own Innovative Courses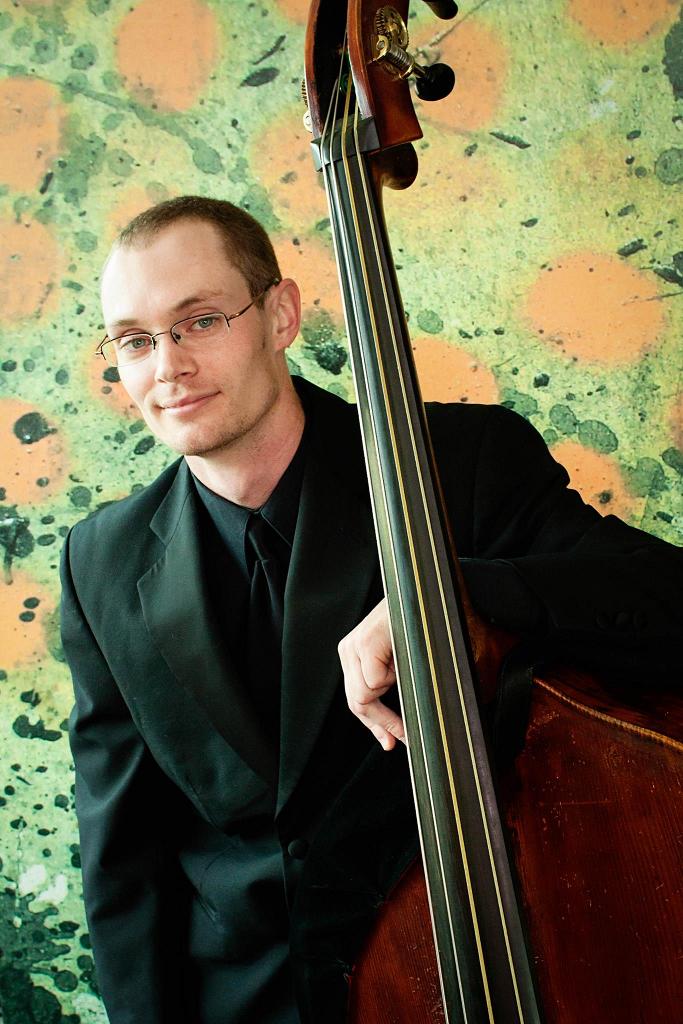 Kevin Lampson's passion for music and history is motivating him to create original courses for students at Lake Lure Classical Academy.
Relying on flexibility for curriculum that the public charter school offers, Lampson is innovating courses, like the history of jazz, that are unlike anything else at schools in the state.
"Where arts education fails students is that they don't tell the why, when or who," said Lampson, who is in his second year of teaching at Lake Lure Classical Academy. "I try to fill in the gaps that students don't get in other subjects."
With original courses like The North Carolina African American Experience, and in a class instantly popular with students on the history of Rock n' Roll, Lampson is creating many "aha" moments in students with the mostly high school students he teaches.
Lampson, 34, acknowledges that he's really teaching sociology, but especially to give context for music appreciation, to give young musicians the cultural background to impart the full picture of the styles they're taught to play.
"First and foremost you have to give relevancy to a student, and if you don't do that, students aren't going to care as much," he said, adding the example that without context as to why Billie Holliday sang the way she did, it's hard to fully appreciate the music.
That's important, Lampson believes, if students continue to play music beyond school — to learn cultural context as well as the ability to improvise proficiently, which happens to be another class he's planning to teach, in the next academic year: music improvisation.
"Students will learn more about any instrument they're playing if they can improvise," said Lampson, who holds bachelor's and master's degrees in Jazz and Studio Music from Morehead State University.
"His enthusiasm and passion translates into everything he does," said Thomas Keever, executive director of LLCA. "He's a very bright young man; we're proud to have him here."
Curriculum director Jessica Boland agreed, adding that Lampson's courses provide LLCA's students with "exposure to unique topics."
Lampson believes the well-rounded music course offerings he's providing are a factor in retaining students — parents are liking what they see, and students are taking note, too.
"The reason I really like Mr. Lampson is that he's gone into actual music theory," said William Witherspoon, an 11th-grade Hendersonville resident who has taken Lampson's guitar classes and his Music I class. "Sometime it does get a little complicated, but then he'll explain it. I'd definitely take another class next semester."
Lampson started teaching middle and high school band and guitar classes at the public charter school, though he began planning original courses in the summer, just in time for the school's move to its permanent facility on Island Creek Road.
"It's something that I haven't seen anywhere else in education," said Lampson, who added that he's had nothing but support from administration and the school board for the courses he's teaching. "It's totally different, and it's really important for me for people from the area to know what is happening here."
LLCA offers education for students in grades K-12, and many are from Henderson, Buncombe and Rutherford counties, according to Lampson.
He's pretty sure no other high school in the state offers a course like his North Carolina Music, which covers the historical context as well as the music of the Scots-Irish settlers of the state's highlands, the history and music of the Cherokee people, North Carolina folk and bluegrass artists, and even the music of the contemporary Asheville music scene.
Tenth-grader Micah Moore, who lives in Flat Rock, decided to take Lampson's Rock n' Roll history class after a friend recommended it. Moore, who said he prefers hip-hop music, is appreciating rock music the more he learns from Lampson.
"It's a lot more than I expected to learn," said Moore of the class, which is specific enough to zero in on a single day of the 1967 Woodstock Music Festival during one day's lecture. Whole individual weeks of the 17-week course are dedicated to Woodstock, the Southern rock scene and female icons of the 1970s, to give a few examples.
Informing all Lampson teaches are the tenets of a classical education, with a framework provided for everything students learn; for LLCA's high school students, the school strives to impart a classical-style education. "The whole point is to get well-rounded thinkers," Lampson said.
He believes classes like "The North Carolina African American Experience" fill in the gaps in students' education and provide context for the post-Civil War experience  of African-Americans, which in turn gives students a better understanding of current events like the protests in Ferguson, Mo.
To illustrate, Lampson poses the question: How can you learn about the music of the 1960s without learning about the history and culture of the 1960s?
To learn the roots of jazz music, a foundation of learning about the slave trade into the Caribbean, the cultural influence from France to New Orleans and the history of the Harlem Renaissance are all part and parcel of a full understanding.
"You have to put yourself in the perspective of the person who saw it," he said. "I'm bringing students back to this stuff and they love it."
To learn more about LLCA, call 828-625-9292 or visit llca.teamcfa.school.